January 16, 2013
Write Only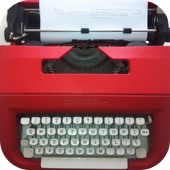 This is a very special writing app that I created mostly for myself. I am not even sure if there is another person sharing the same needs as mine.
It is designed for you to completely focus on writing. By separating writing from editing, it helps you focus more on getting your ideas out. Using it is like sitting in front of a typewriter and watching words flow out of your finger tips. Everything you put down on the page is permanent. All the typing is saved as a PDF file, including the positions, the font size, and the colors that the texts come out with. No matter where and when you are going to view these pages, they will be kept exactly same as the time you typed them.
Fixed cursor sits right above the keyboard, therefore your eyes will be close both to the text you're typing and the fingers, and that can help to reduce typing errors. You can start typing on the page at any place by tapping on that location and use any margin you want by moving the page. It is very easy to type aligned texts. An extension keybar includes frequently used keys like ' or ; that are difficult to access in iOS' default keyboard.
Write Only is good for writing the first version of any work, especially diary or journal. When you come back to your writings years later, the shapes of the text and the errors you made will help you remember the moments of the writing.
App Store Link (Free)
Upgraded: Write Only 2